01 octobre 2013
Already October... I can't believe it.. where did September go?
Little update on my/our situation. Still living at Damien's place, visited around 20 places by now (and I am not counting the numerous cancellations from agents...), we liked 4 of them but they all disappeared before we had a chance...
Job wise, I did not manage to secure a MFL position yet, but I worked as a bilingual teaching assistant in a primary school. Little money but better than benefits from the government.
For October, I decided to quit chocolate and to scrapbook a little bit every day. In this post, I will keep track of every day.
1st October:
* chocolate - 0
* scrapbooking - took out all my cardstocks from Bazzill and opened my 4 volumes of Mexico and tried to fill some page protectors. Finding the right background and papers to match my pictures is always the hardest. Tomorrow I might tackle the pattern papers.
2nd October:
* chocolate - 0
* scrapbooking - 0... viewing + diner + mails... life got in the way + wanted to do some digital PL, but my laptop blue screened a few times...
3rd October:
* chocolate -
* scrapbooking -
28 août 2013
Hello !!

Wednesday again, time flies, this is nearly the end of August, which means the end of the summer, school is going to start again soon, if not already for some of you in the US. Here I am again with some digital PL scrapbooking with my Spain album! Today I am showing you weekend 4 day one, which is Saturday and my best friend came over for 4 days-ish. Unfortunately the weather was not that great...

I went to pick her up at the airport, came back home to put her luggage down and we were off for a really long walk all around town. The Retiro Park with the pond, crystal palace, some fauna and flora, the station Atocha, the museum Prado, back to the old Post Office and up to the Palacio Real. A long and tiring day, with a rewarding diner at the pub down my flat!!
Double LO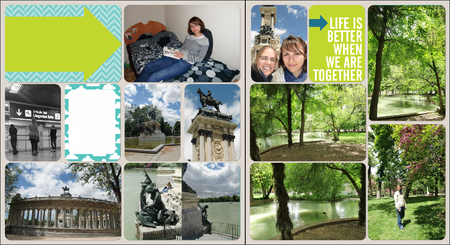 Left page - 12x12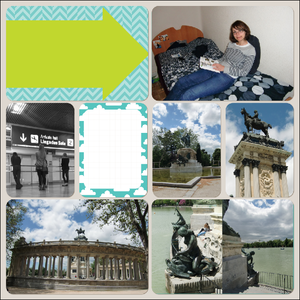 insert 1 (side A)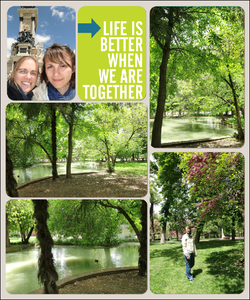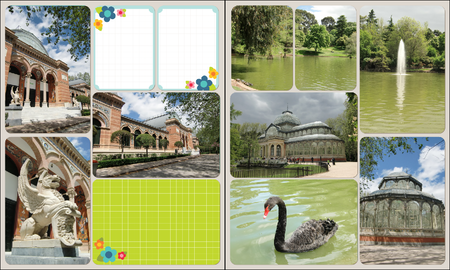 insert 1 (side B)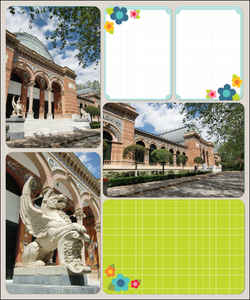 insert 2 (side A)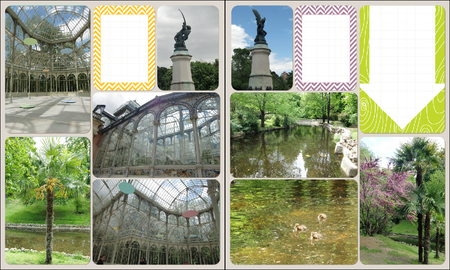 insert 2 (side B)
insert 3 (side A)
insert 3 (side B)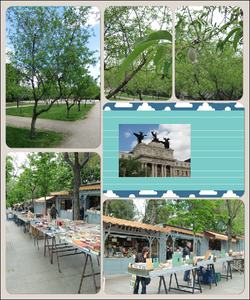 insert 4 (side A)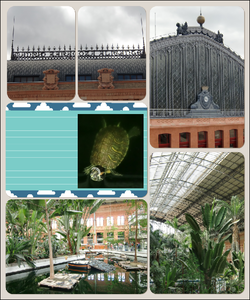 insert 4 (side B)
insert 5 (side A)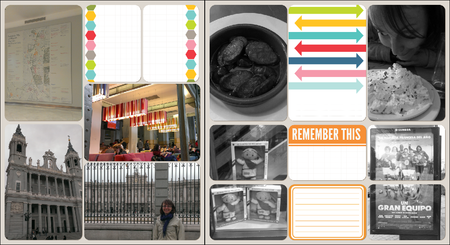 insert 5 (side B)
right page
no insert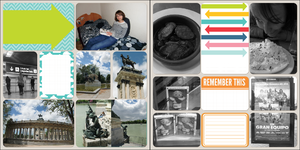 See you Friday for some more digital PL spread!!
25 août 2013
Happy Sunday everyone!
Today I have for you 2 bday cards and a mini album. One of them recent and the other ones a year old but I just realised I never posted them online... It is never too late!!
Two weeks ago it was Damien's birthday, and as usual for the occasion I made him a handmade card! I was really low on inspiration at first but then my head was full of ideas (thanks 2peas for all the inspiration!!).
I decided to scraplift this card:
from mcd4jc
this is mine:
As you can see it is festive and colourful!!
details: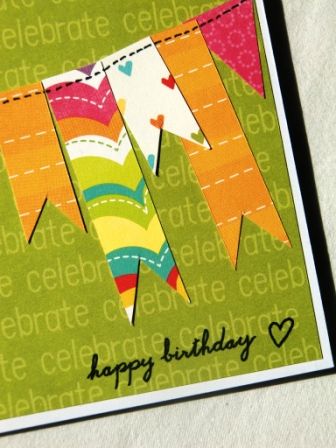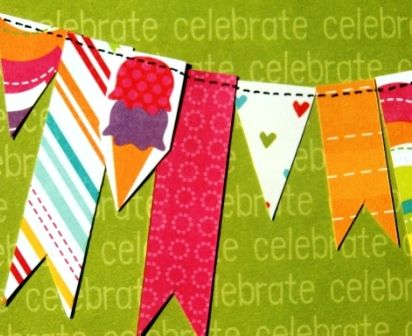 -------------------------------
Last year for Damien's 28th I organised a surprised bday dinner with all his friend at the restaurant. For the occasion I made a mini album with pictures from everyone and a space for them to sign! I used the collection from Echo Park - Times and Seasons, and I made a coordinated card.
Photos talk for themselves: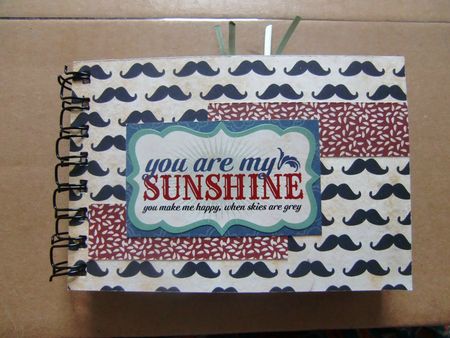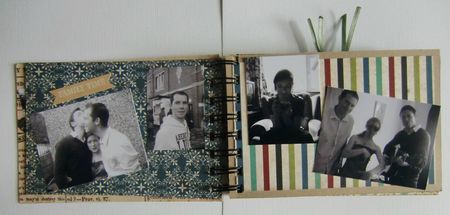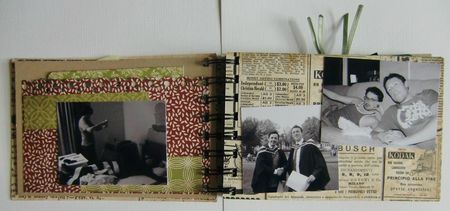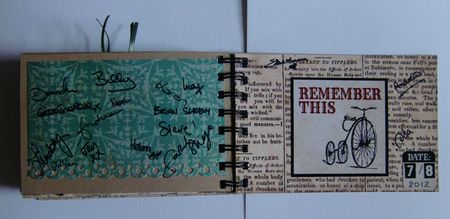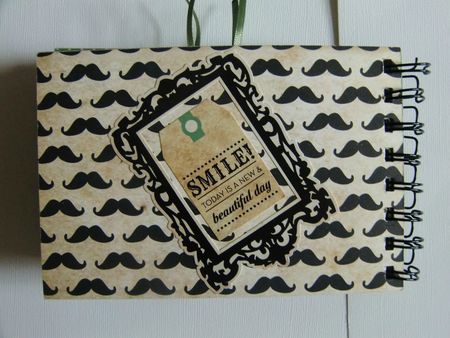 it is only a preview, to see all the pages look at the full album clicking HERE
or on the right hand side album called "Mini Album-Damien's 28th"
the card: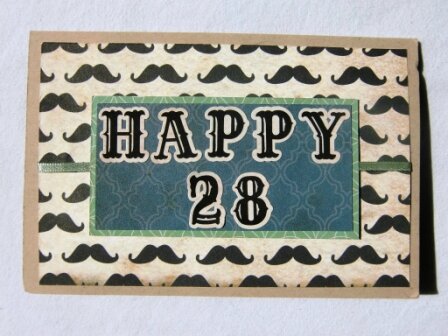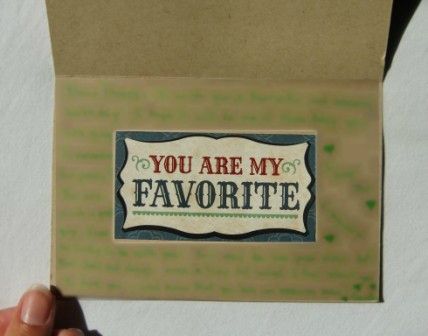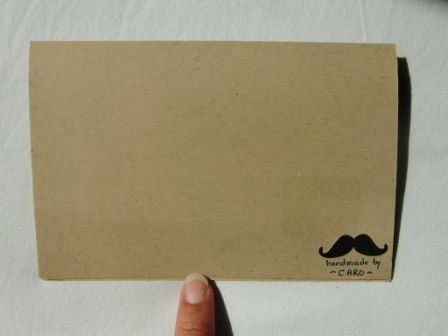 any thoughts?
23 août 2013
Hi everyone!
It is Friday digital PL day!! I am about to show you week 4, it was a really basic "boring" week and not much happened, so I only have 5 pictures. I decided to put the pictures in black and white; and to put some colours I choose to use the Honey Edition because it is lovely, punchy and the designs are pretty cool.
I spend all my afternoons after school in the park, doing some essais' correction, it was lovely, the weather as hot, the sun was shinning!! I also started to wear summer clothes and my spirit was up thanks to the sun! During this same week I also went to Uni, to meet a friend and finally I decided to add a screenshot of watching Game of Thrones season 3 !
Double LO: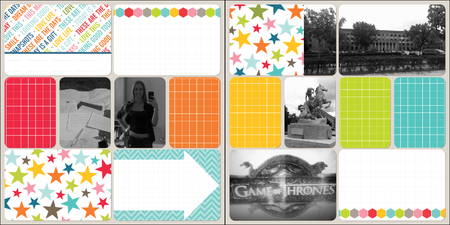 Left page (12x12)
Right page (12x12)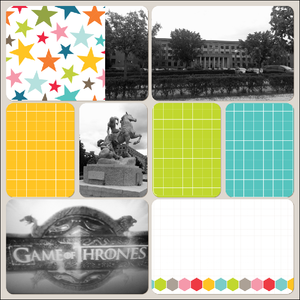 see you Sunday for some catching up with "real" scrapbooking
and next Wednesday for more digital PL!!
21 août 2013
Hi everyone
Wednesday again, time for some digital PL on my trip to Spain. We are still "weekend 3" and this is now day number 3. We went to visit the PALACIO REAL of Madrid. The royal family does not live here anymore but they use the premises for official receptions. Unfortunately we were not allowed to take pictures inside so I used some images from my dear friend Google!! We also went to eat in a really nice Tapas restaurant.
I used Becky Higgings - Rain Edition
Palacio Real - Daniela - Walking around
Left page (12x12)
insert 1 (side A)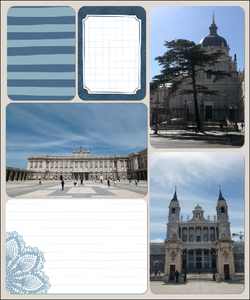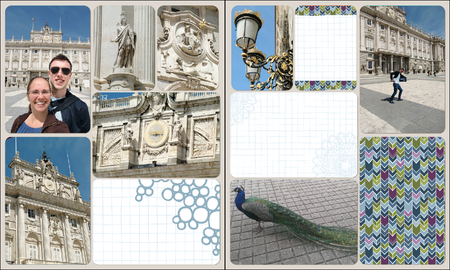 insert 1 (side B)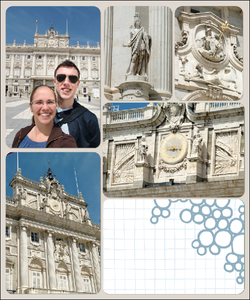 insert 2 (side A)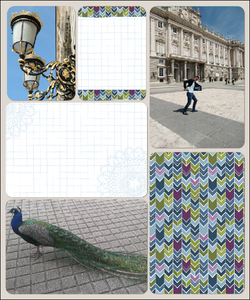 insert 2 (side B)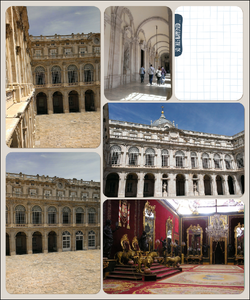 insert 3 (side A)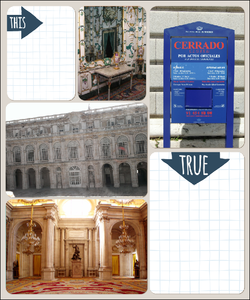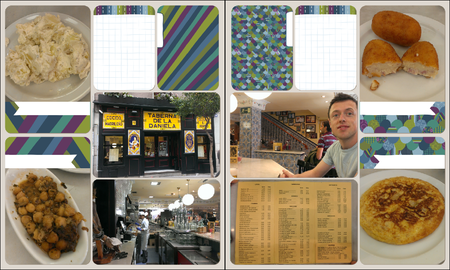 insert 3 (side B)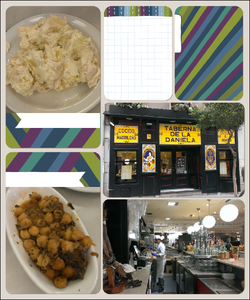 insert 4 (side A)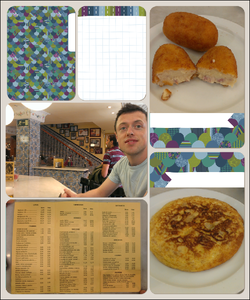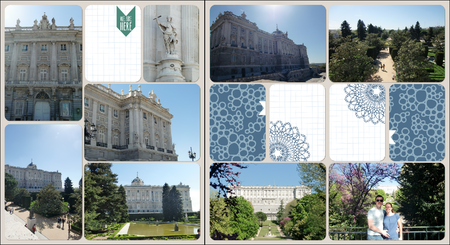 insert 4 (side B)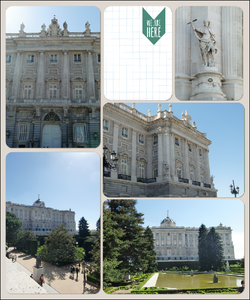 right page (12x12)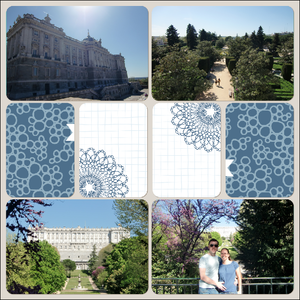 DP without the inserts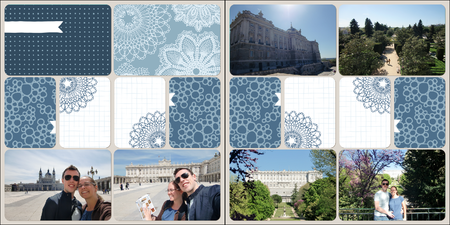 Do you like ?
See you on Friday!